Something Blue by Zachery Mayne
(from Excellence Magazine Dec. 2005)
---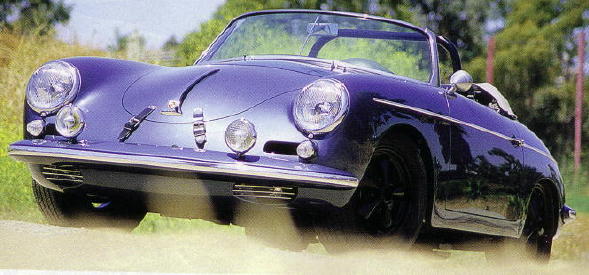 ---
These days, we often here owners of perfectly restored vintage Porsches say that, as much as they enjoy owning their cars, they've been relegated to garage-queen status because of their value, rarity, and condition.
Visit a concourse field at any club event and you'll see row upon row of gleaming, beautifully restored Porsches with nary a rock chip on their exquisite sheetmetal. Many were painstakingly restored with rare parts that took years to track down, then carefully assembled with every single screw turned to the perfect torque figure. For some, this is Porsche ownership at its best. For others, it's a bit, well, stationary. Kieth Hoffnagle, who owns a "perfect" Signal Red 356C coupe, realized he was missing out on a vital part of the Porsche experience: driving one.
HIs solution? Build another car he could drive without guilt - an approach increasing numbers of classic Porsche owners have chosen. That car would be the 1960 Outlaw Roadster you see here, a car with a hot-rod motor and a liberal application of 356 GT-inspired parts. Before Hoffnagle laid hold of it, the old Roadster had been the victim of a stalled restoration.
"John Willhoit found the car," explains Hoffnagle. "The owner started to restore it but gave up on the project. It sat for a number of years before he finally decided to sell it. Basically, it was a bucket of parts and bolts." Like any car nut, Hoffnagle could envision the custom Outlaw hiding in that daunting pile of rusted sheetmetal. Thanks to the prior owner's efforts, the floorboards and longitudinals had been properly replaced, but the entire front clip was missing - along with the rockers. Seeing as the car had no known history and was disassembled, Hoffnagle figured it was the perfect candidate for a hot-rod project. He purchased the car in 1998 and let it sit another two years.
"I had two years to think about what the car's appearance would be like," he says. "I wanted it to be more aggressive than stock - but not so radical that we'd be cutting up body panels." What he wanted was something along the lines of a 356 GT - though his vision would be even more unusual because the factory never produced a GT Roadster.
The first step in the project was getting the sheetmetal sorted out. While the rust was being repaired, Long Beach 356 expert John Willhoit added his chassis stiffening kit, which necessitates cutting longitudinals and welding in internally boxed sheetmetal reinforcements. Major rust areas had to be cut out and repaired with new metal. Those included both the front and rear clips, the front strut towers, the battery compartment, the engine tray, the lower door skins, and the door jambs. While rust repairs were underway, the cosmetic modifications began.
"On the decklid, we removed the water tray and cut six louvers on each side of the grill for added engine cooling," says Willhoit. Once rust repairs were complete, Willhoit's paint and body specialists got to work on prepping the body for final paint. But that meant the color choice had to be finalized, a tough prospect for Hoffnagle.
"The color scheme was the hardest thing to decide," he explains. "I definitely wanted to stay with a Porsche color. Originally, I wanted to do Gulf Blue with an orange racing stripe." After seeing some other Porsches with that scheme, however, Hoffnagle realized it wouldn't be a unique setup. As the 356 Roadster neared its day in Willhoit's spraybooth, Hoffnagle decided on Adria Blue, offered on 1954-1955 356 coupes.
---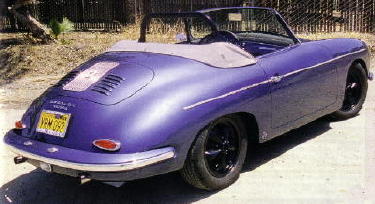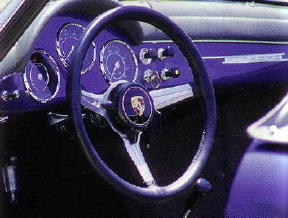 ---
Despite the obvious "old-tech" of the 356s Willhoit specializes in, the shop uses computers to simulate different engine setups. The process starts by measuring every component of the motor, from the connecting rods to the valves. After that, components like the cylinder heads and exhaust system are flow-tested. Once weights, measurements, and various flow characteristics are determined, the information is plugged into software to help determine the best course of action.
"It's like a virtual dyno test," offers Willoit. "We can then select things like camshaft profiles. It's a lot easier than having to rebuild the motor if it doesn't end up the way we wanted it to." Willhoit says the motor in this 356 was built for the street, with enough performance to be useful for autocrossing or an aggressive canyon-carving session. Translation: it's a torquey motor with solid mid-range power that can easily be exploited on the street.
Starting with a late, 1600-cc crankcase, Willhoit selected a bore of 86.5 mm and the stock stroke of 74 mm. That dictated a displacement of 1735 cc. A Scat lightweight crank replaces the heavier stock unit while a set of Carrillo connecting rods are mated to the crank. A custom set of 10.2:1 forged pistons made by JE were installed. The camshaft - also made to Willhoit's specs - is a 288 degrees unit, while the pushrods that ride on the camshaft are chromoly items. The crank pulley was replaced with a five-inch aluminum pulley that Willhoit says reduces fan speed by 10 percent. Since this was going to be a recreational car, the heater boxes were deleted. Modified lower air deflectors are used to increase airflow to the motor.
The cylinder heads feature modified ports and combustion chambers. A set of stainless steel valves with 8.0-mm stems measure 42 mm on the intake side and 34 mm for exhaust work. Doubled valve springs are held on by lightweight retainers. Dual 44 IDF Weber carburetors with custom five-inch air horns mix air and fuel, while a Facet electric fuel pump mounted in the trunk ensures a steady supply of the latter. For ignition, an MSD distributor works with an MSD CDI ignition box with a 7000-rpm rev limit.
Willhoit built two exhaust systems for this car - a 4 into 1 header system with a Sebring-style tip and a dual-pipe sport exhaust. Willhoit claims the dual-pipe exhaust was recently installed and is far quieter than the first system. And, after hearing the "quiet" exhaust - which is far from subtle - in person, one can only imagine the racket the louder one must make! When the motor was finished, it was taken to Caribou Engineering in Costa Mesa, California. There, a run on a DTS dyno yielded 129 bhp at 6200 rpm and 121 lb-ft of torque at 5000 rpm. These readings were taken with the header-based exhaust setup; the numbers are just a hair lower with the dual-pipe setup.
To put power to pavement, the transmission is a Type 741 that has a later 12 bolt ring and pinion with Custom B-B-A-B gear ratios. Shift throws have been shortened by 40 percent with a short-shift kit. Once the power gets through the transmission, the key to keeping it useful is a 356 that stay planted on the pavement. To that end, the suspension system was the next phase.
---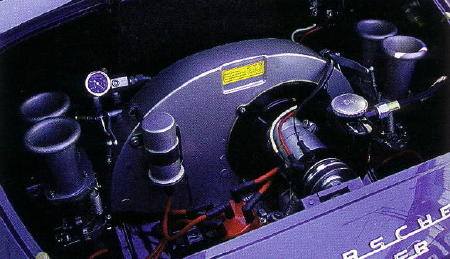 ---
Up front, the spindles were modified to allow 1.0 degree negative camber for better turn-in and road holding. A custom aluminum tie-rod setup was installed along with specially-valved Bilstein shocks. The front torsion tubes have been modified to allow this 356 to be lowered and fit with a set of 20 percent stiffer torsion bars. To reduce body rool, a custom 17.5-mm anti-roll bar is used up front. At the rear, a set of 25 percent stiffer torsion bars have been installed, along with more specially valved Bilstein shocks. Finally, the ride height has been lowered by 1.5 inches, front and rear.
"Because the car is street driven, all of the original rubber bushings have been retained," says Willhoit, who adds that the 356's ride is firm but not overly harsh. The brakes on Hoffnagle's Roadster are still discs, but with vented rotors and calipers from an early 911. As with most older Porsches, choices for period-correct wheels on any given model can be a limited affair. For 356s, you're limited to steel wheels or lightweight race wheels like Panasports or Technomagnesios. The wheels on Hoffnagle's Outlaw are 15X6 inch American Racing magnesium rims. Comments Willhoit: "These are a magnesium casting and were the wheel to use in E Production SCCA racing in the old days. They're hard to find, especially without cracks." Once these wheels were X-ray'd to ensure they had no cracks, they were painted satin black. "Originally, they used special chrome bolts. We machined them to use a special seal adapter and factory lug nuts," explains Willhoit. The rare AR wheels are mounted on a set of extra long 930 wheel studs. Tires are stickey 195/60R 15 Dunlops.
"The interior is basically stock except for Speedster seats mounted on steel GT seat frames and lightweight Speedster-style door panels," says Hoffnagle. Any leather in the interior is Seagull Gray and perfectly complements the car's pretty Adria Blue flanks. Heavy-duty German square-weave carpet was bound in the same leather as the seats. A factory removable roll bar is bolted in for a little added security, not to mention an even stronger faux-GT aesthetic. A set of three inch wide Simpson lap belts hold the driver and passenger securely in place. Plexiglass side windows are on on duty instead of heavier glass windows and are lifted into place via GT-style straps. The stock door handles were replaced with shorter, GT-style units.
Though the vintage steering wheel on Hoffnagle's 356 looks stock at a glance, keen eyes will note its smaller diameter and thicker rim. Reveals Willhoit, "The wheel was made by cutting the stock spokes down and fabricating a new metal rim to match them. The rim was covered with molded foam and then hand-sewn leather." Another unusual detail is the custom oil and gas gauge, which left the factory with just oil-temperature and fuel-level readings. This special gauge, built by North Hollywood Speedometer, now has three functions: oil temperature, oil pressure, and fuel level.
In person, it adds up to a stunning 356 that combines understatement with a serious dose of the sports-purpose attitude. Hoffnagle says he feels free to enjoy an old Porsche the way it was meant to be - and does so regularly. But, looking at the car it's almost hard to believe him. Simply put, this 356 is that nice. One wonders if "rat rods" won't supplant the current hot-rod trend among 356 and early 911 fans. After all, if the "driver" is as nice as the garage queen, aren't we back to square one?