The Long Road Home by Peter Linsky
(from Excellence Magazine Feb. 2005)
---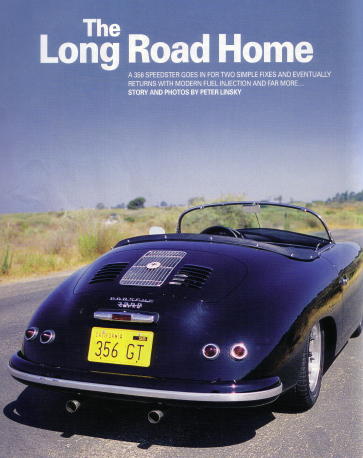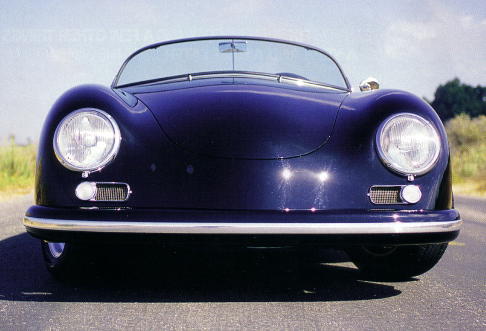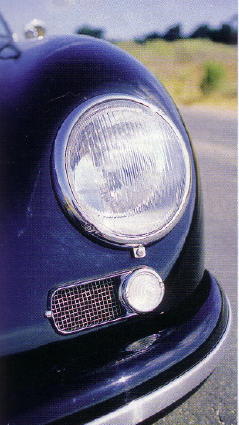 ---
"I hate carburetors!" exclaims Dick Moran, smacking one fist into the palm of his other hand. That simple statement reveals why his 1956 356 Speedster has more going for it beneath the skin than is immediately evident.
Moran's black bathtub is a delight to behold - as it well should be given the 1,500 shop hours that were devoted to its recreation as a very, very trick 356 with more than a little Outlaw flavor. But its real trump card is an unusual surprise in the form of a propriety Motec-managed electronic fuel-injection system in its engine compartment. Rather than the 60-75 or so horses you'd expect in an old 'Tub, this 356 packs 152 claimed ponies and roughly 140 lb-ft of torque.
That's a massive improvement on the state of Speedster #82225 three years ago. That was when Moran decided to purchase the 356 as a birthday gift for his wife. Originally painted White with a red interior, the tired ragtop was making do with a 60-hp 1600 Normal engine. "It was a cosmetically adequate driver," says Moran. Of course, the car needed some work before it could be driven. "The brakes needed adjustment and the under-dash fuel reserve cock was leaky."
Moran says his wife wasn't fooled. Nor was she surprised when, in August of 2002, Moran picked up the phone and called Willhoit Auto Restoration in nearby Long Beach, California to have the shop sort through "a few things." Like other Porsches in Moran's possession, this one was destined to be something a little different. "I said, 'Can you fix the fuel cock and a few other things?" relates Moran. "And a year and a half later, I got the car back!"
As with most well-intended automotive projects, one thing inexorably led to another. When John Willhoit got the car, he promptly discovered a wealth of body filler from previous repairs, most of them poorly done. Says Willhoit: "I found it had a later, incorrect B rear body clip, a mangled inner shelf, rusty floors, and patches everywhere." Rather than doing a partial repair, Willhoit suggested stripping and rebuilding the car to get the results Moran wanted. Willhoit got a green light, and the lengthy process began.
"I didn't want a concourse restoration," says Moran. "Rather, I wanted a driver I can enjoy on an everyday basis - with a little bit of 'Outlaw' thrown in." What was that about a car for Mrs. Moran?
"The car had terrible door gaps, and was obviously in need of strengthening," reveals Willhoit. "We put the car on a rotisserie and rigged it for stability, then installed a chassis-strengthening kit that we developed. It involves slicing open the longitudinals and installing new, internally boxed 12-gauge sheetmetal reinforcements. Then we cover the work with new longitudinals. We do this on many open cars because it adds needed stiffness."
---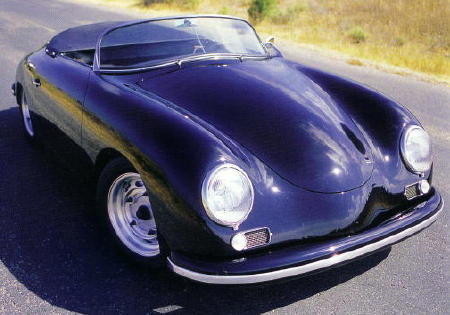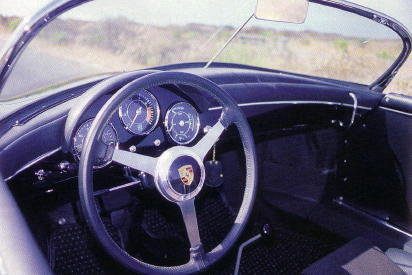 ---
The shop also added a set of frame struts - which Porsche did not adopt until 1957 - between the front axle and floor boards. With new floors and other reinforcements installed, Willhoit says the tub is now very rigid when compared to the fairly flexible stock body. As part of the reconstruction, Willhoit's crew also rebuilt the Speedster's inner structure, welded in a correct 356A rear body clip, replaced the engine shelf with new steel, reskinned both doors, installed new rockers, and plugged in a new 12-volt wiring harness from YnZ's in Redlands, California.
While his craftsmen were busy with all of the sheetmetal, Willhoit was already thinking about the 356's powerplant. "I'd always wanted to do a fuel-injected engine," says Willhoit. It wasn't too difficult to convince Moran to do fuel-injection, given his feelings about pot-metal Solexes and old Zenith carbs.
The engine Willhoit created for Moran is 912-based, with a SCAT lightweight 74-mm crankshaft and Carrillo connecting rods - a widely accepted approach when building a strong flat four. Willhoit sent the case to Ollie's Machine in Santa Ana for all internal work. Custom, 91-mm cylinders made from Mahle VW big-bore cores yielded a displacement of 1925 cc. The special cylinders have more cooling-fin area than the stock Porsche cylinders. Willhoit made up special tooling to modify the Mahle cores so they would fit the case. Testing showed lower cylinder head temperatures than those recorded on the shop's more common 1720-cc big-bore kit engines.
The barrels are filled with specially-forged lightweight JE Pistons, cooled by special oil spuirters. A compression ratio of 10.8:1 demands something better than the stock cylinder heads and ignition system, so Willhoit found a shop with extensive racing experience that could engineer and craft a set of twin-plug heads to his requirements. Willhoit won't identify his source, saying, "If everybody in the world starts running up there, I won't be able to get my own projects done!
"The twin-plug design and plug location was actually used by Porsche back in the 1950s in its 356 aircraft engine," he notes. "So the idea is not new. I use a smaller - 10mm versus the stock 14mm - spark plug in the second location, which doesn't require as much cylinder head material to be cut away. The twin plugs provide two flame-fronts and a far more efficient combustion chamber. This enables us to go higher on the compression ratio without fear of detonation, and back the timing off to 25 degrees versus the stock engine's 36 degrees advance.
"We found during the engine simulation that the stock intake valves simply didn't flow enough for the 1925-cc motor," he continues, "We experimented with changes in valve and port size to achieve the most flow with a minimum loss of port velocity in order to retain good throttle response for a street engine." What works best, says Willhoit, are stock parts with unshrouded, larger, 44I/34E stainless intake valves (44mm vs. 38mm), and stock-sized stainless 34-mm exhaust valves, which he describes as "perfectly adequate." The goal was having the exhaust flow at 75 percent of the intake volume - "the ideal ratio for a performance engine," according to Willhoit. Euro cylinder air deflectors improve downward airflow over the cylinders.
---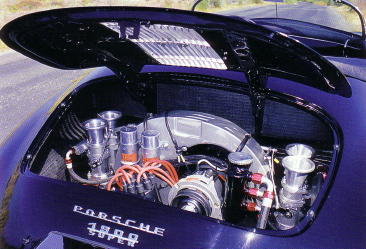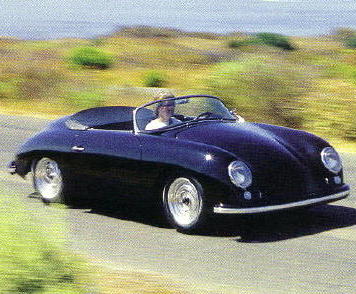 ---
Web Cam produced a special billet-ground camshaft for the project. It has 247 degrees of duration at .050-inch lift. Net valve lift at the valve is .475 intake and .415 exhaust. There are special lash-caps, double valve springs and chromemoly retainers and purshrods - all carefully matched to the cam and rpm potential of the engine.
Now came the fun part, developing the fuel-injection system. Says Willhoit: "I had a big learning curve. I'd thought about doing an engine like this for a long time." The first step was to create a computer model of a stock 356 engine. "We did virtual EFI engine simulations with various throttle body sizes. In the end we decided to go with Motec, it's the best system available and has excellent product support."
TWM Induction of Goleta, California, porvided throttle bodies, fuel rails, and stacks before Willhoit went to work creating a billet twin-ignition distributor containing a pair of Hall sensors - one with a four-magnet sensor ring to trigger the individual cylinders and the other with a one-sensor magnet ring to tell the Motec unit which cylinder is Number 1. This, says Willhoit, allows for a fully sequential system - which creates a cleaner mixture, a better idle, and superior low-speed running. The custom distributor uses a proprietary cap and rotor whose source the semi-secretive Willhoit won't name.
A dual output CDI system from M&W Iginitions of Australia takes signals from the ECU to fire a pair of coils. Using a Bosch 52-amp alternator eliminates the need for a voltage regulator. Also, notes Willhoit, it's needed to power the CDI box, pumps, four relays, and the ECU; "The (stock) generator literally melted trying to keep up!"
Willhoit fabricated a special stainless sport exhaust system with a twin-outlet muffler, which was required to clear the lower spark plugs. He then had Sakata Motorsports, a Motec dealer, create a new MIL-spec wiring harness for the fuel-injection system. A late Carrera 3.2 fuel pump provides continuous fuel flow of 60 psi and recirculates excess gas to the fuel tank. A Bosch fuel filter hides beneath the car and serves to dampen pulses from the pump.
A full-flow oiling system with proper filtration takes advantage of a deep and wide aluminum oil sump and a pair of Setrab oil coolers up front. They are mounted Carrera-style behind neatly-screened front horn covers that have had their original horizontal trim bars removed. All hoses in the oil system are Nomex-covered Aeroquip.
The oil-cooler thermostat is always at least slightly open, and opens fully at 180 F. The added capacity helps ensure the engine will not overheat. In fact, dyno sheets show a maximum oil temperature of 189 degrees F at 7,000 rpm and a steady 55 psi of oil pressure above 5,500 rpm. Custom fabricated breathers vent to both heads to relieve internal crankcase pressure, and a smaller crank pulley slows the cooling fan's rotation by 10 percent. A 10.5 pound flywheel, an aluminum pressure plate from Kennedy Engineering, and a heavy-duty clutch disc send power to the 741 transaxle. Assembled in a 716 housing by Scott Hendry in Anaheim, the gearbox uses a set of later C-B-A-A gears with a 7:31 ring and pinion set.
---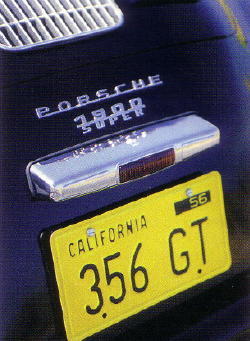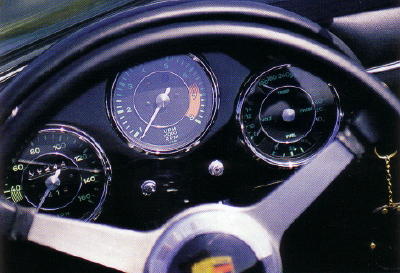 ---
Everything looked ready in the virtual scheme of things, but there were still many hours of real-world testing ahead. Willhoit credits Motec's George Clarke for patiently creating the software map for the 356 engine simulations and final fuel-injection map tuning. Willhoit says the tuning was a slow process, measuring the fuel mixture against throttle position at precise intervals across the motor's projected rev range. Eventually, Clarke wound up with a map that provided excellent power and torque numbers with great driveability.
Willhoit claims the engine makes its 152 flywheel horsepower at 6500 rpm and holds power all the way up to 7000 rpm. It's a very torquey four, as well, with 140 lb-ft on tap at 5200 rpm and 120 lb-ft available at 3500 rpm. But more important than the raw numbers, the engine offers flexibility that's impossible to match with conventional carburetion. "Even at this power output, the EFI makes it a very tame engine," argues Willhoit - something that can't be said for most high-power 356/912 engines. "You can put the 'pedal to the metal' in top gear at 2000 rpm without any bucking or spitting." After 18 months of effort, Moran and Willhoit agree: This is a state-of-the-art fuel system in a nearly 50 year-old car!
Speaking of being almost 50 years old, Moran's 356 needed more than a few upgrades to deal with the hot-rodded powertrain. To that end, Willhoit installed decambered front spindles, a heavy-duty aluminum tie-rod kit, and custom-valved Bilstein shocks at all four corners. New torsion bars - 20 percent stiffer in front, 25 percent stiffer in the rear - mount in modified tubes. The car's factory 16-mm forward anti-roll bar was borrowed from a later 356C. Finally, the Speedster was lowered by about two inches all around to get an aggressive stance.
With the suspension all figured out, the brakes were next on the list. Willhoit scrounged up a set of 60-mm wide, GT-finned front drums and replicated a set of the factory's GT backing plates, which include cooling air scoops at both ends. Alex Blivens at West Coast Haus in Huntington Beach supplied the handsome, brushed-finish two-piece aluminum early-style "open hub" wheels. They measure 15X5.5 inches and wear 195/60R 15 Dunlop Sport A2 tires. A close look at the wheel studs reveals bull-nosed ends for a cleaner look.
With the body sound again, there was some time for a few subtle modifications. The original chrome front decklid spear was removed and the nose was shaved. GT bumper deco trim was added, while Carrera-style louvers were punched into the engine lid for additional ventilation. The water tray was removed at the same time. The metal dashboard no longer carries the familiar Porsche emblem and the Speedster side trim was deleted.
Willhoit says his crew of Mitchel Balmayne, Chris Mayring, and Pablo Gomez spent 700 hours on the metal-work and approximately 1,500 hours on the whole car. That's an insane amount of time, one might say, but the black paint is flawless, with no break in the sightlines - even under the unforgiving flourescent lighting. Open the doors, and the understated interior beckons.
---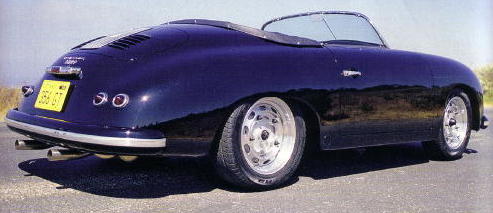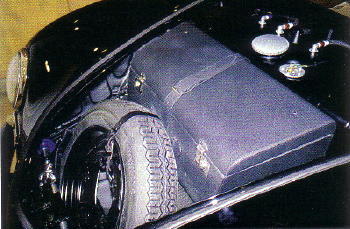 ---
Vented Speedster seats were reupholstered by Autos International in black leather with dark gray corduroy inserts. The carpeting was replaced with a reproduction of the factory's GT lightweight pebble-grain vinyl. Original style rubber mats and tasteful black/gray cocoa mats hide both the ECU and relays under the right front panel. The door panels and other interior panels are covered in black leather. The interior door handles are small but functional aluminum GT-style units.
A tinted windshield shades a trick three spoke steering wheel recovered in leather by John Moch. Willhoit found a 160-mph speedometer and an 8000-rpm tach and had both converted to work on 12 volts by North Hollywood Speedometer. The same shop created a new four-in-one gauge to display oil temperature, oil pressure, fuel level, and volts. A pair of old Pre-A warning lights alert the driver if something's wrong with the generator or oil pump.
For driver comfort, Willhoit relocated the gearshift eight inches rearward, displacing the old heater controls. The shift lever was shortened and fresh bushings were installed. A set of custom-made three-point retractable seatbelts help keep occupants firmly planted. The rear seat tray was removed in the GT traditon and a neat black boot cover protects the minimal storage area behind the driver and passenger seats.
For exterior lighting, Moran swapped the original six-volt headlights for a pair of 55/100-watt H4 halogen bulbs behind Mukilteo Motorsports' plastic reproduction of early European Bosch lenses. Out back, Willhoit painstakingly fabricated a special center-mount brake light in the Speester's shine down license lamp housing, using a 1952 red stoplight lens in place of the original 356A reverse lamp. Just above that a cleverly-crafted "1900" rear badge takes the place of the more common 1600 emblem. Inside the engine compartment, minimalist OEM-type tarpaper covers the firewall.
Open the front decklid and you'll discover several custom touches in the luggage bay. A replica of the factory's fitted suitcase slips between the gas tank and spare tire. The suitcase was fabricated by Russ Rodriguez at Fibersteel in Covina, who lined the case in the same corduroy Moran used for his seat inserts. Moran says he likes the consistency of the material throughout the car. Willhoit also produced a custom tool kit with black composite screwdriver handles instead of the original wood. The battery well holds a small, gel-type unit.
The entire package impresses not just for its workmanship, but for thoughtful details that appear only on close inspection. It certainly wowed the crowed at the 356 Club's Dana Point Concours last June, where its first public appearance produced trophies for First in Class and Judge's Choice. The car also won "Best Outlaw" at 2004's Speedster 50th Anniversary event in Monterey.
But Moran won't be keeping his 356 Speedster as a show queen. After our photo session near Newport Beach, John Willhoit slips behind the wheel - which is no easy task given his well over six-foot-height. I worm my similar length into the passenger bucket. Belt secured, Willhoit turns the key and hits the starter button and nearly two liters' worth of fuel-injected cylinders roar to life. With a glance at oil pressure and temperature, Willhoit selects first gear and lets out the clutch. Weighing roughly 1,700 pounds and boasting 152 horsepower, this 356 uses a flat for that doesn't have a lot to motivate - so we're off like a shot.
Around a corner and through some sweepers, Willhoit plants his right foot and the revs soar. This little tub is a flyer - easily capable of running with "faster," more modern sports cars. Willhoit claims the casual 0-60 times of under 6.5 seconds with half a tank of gas on board. The sport muffler is a bit loud and might be intrusive on a longer drive, but it sings delightfully as Willhoit works the gearbox to full effect. The Motec works perfectly, allowing the engine to pull cleanly right up to redline in first, second, and third.
The Bilstein-cushioned ride is firm but not jarring while steering response is immediate, helped by that decambered front end. The GT-spec brakes are terrifec for a car of this age, hauling the car down from considerable velocities just as well as they did on the factory racers. Viewed from behind, the deep aluminum sump appears to clear the pavement by no more than an inch or two. In actuality, there's decent ground clearance, but I still cringe a couple of times when Willhoit blasts across bumpy intersections that use up a good bit of the car's suspension travel. But there's no harm, no foul. Its the mark of a car that's been fully sorted.
And sorted this Speedster has been, though it's been through quite a bit more than the two fixes Dick Moran mentioned to his wife when he dropped the 356 off at Willhoit's place. The only adjustment to the stock brakes was a trip to the trash bin and, while Moran decided to retain the previously leaky reserve fuel cock for aesthetic effect, it's now non-functional.
As for Mrs. Moran? If she has any sense, she'll remind her husband who's supposed to be driving this Porsche. After all, why should he have all the fun?